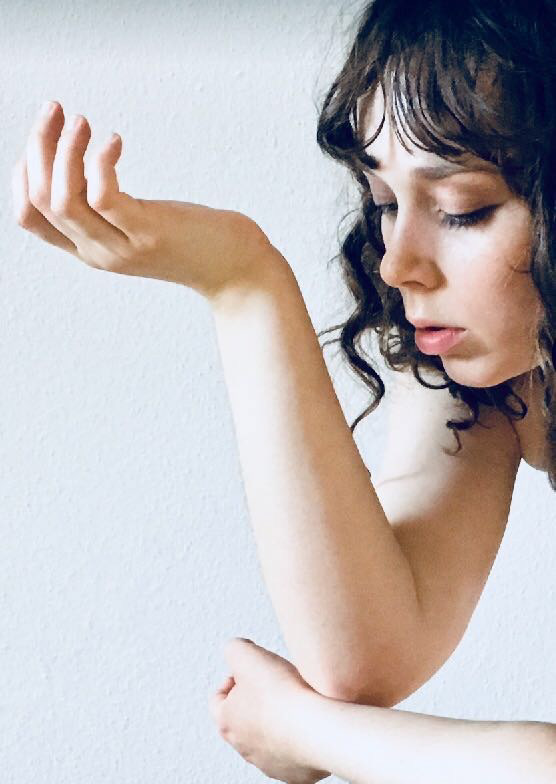 After completing her Bachelor of Fine Arts (Dance Performance), Chloe questioned how her artistic voice could be heard. She wanted to push the boundaries of how dance could be defined and believes that dance can replicate visual art. Just like the painter's brush can depict a scene, she believes that the movement of the body can represent the feeling and image of a place. Connection to a space/place is a theme that she has constantly explored both artistically and personally. 
Since 2017, Chloe has been developing her Place in [e]Motion Project. Stage One was in her hometown (Brisbane, Australia) in May-June, 2017, at House Conspiracy. For this residency the feeling of place was very strong, as it was in her hometown and  based in an old 'Queenslander' home. She looked purely within and focused on her feeling within the space. At the conclusion of her time at House Conspiracy, she put a question to the showcase audience; 
   "Do lines created by the body have the same ability as those painted with a brush, to convey an emotion and meaning?" 
This created interesting comments and discussions, and led her to take this project to places she had never been. Stage Two of Place in [e]Motion, was created in March 2018, at PINEA-LINEA DE COSTA A.I.R. (Rota, Spain). 
Stage Three was created from April-June 2018, during her residency at TAKT Kunstprojektraum, Berlin. 
Stage Four was created in January - February 2019, at Studio Kura (Fukuoka, Japan). 
Stage Five was created in May 2019, at the Fish Factory- Creative Centre (Stöðvarfjörður, Iceland).
Stage Six was created in June 2019, at TAKT Kunstprojektraum, Berlin. 
Chloe wanted to travel and work in places she had never been before, to be able to gain maximum influence from the space, with no current experience to affect the process. This would allow her outcomes to be truly inspired by a particular place, environment and the other artists she spent these residencies with. Therefore, the movement she would create during these residencies would be completely unique to that moment in time.
​During the course of these residencies, Chloe devised a choreographic process to represent this feeling of place. The starting point for this process came from images she captured around the location of that particular residency. These images are then used as a base to devise improvised sequences.
"I film the whole movement creation/improvisation process. Watching the footage, I choose phrases which I most connect with. I then capture still images from this. I can then focus on finding positions and lines which I believe express a meaning or intention. Using the computer I take the still images through a process which eventually results in a line drawing. Looking only at the simple line drawing, I decide whether I feel that the lines created with the body in that movement do express meaning. This process has allowed me to create movement that I believe is readable and allows the audience to be involved observers. "
From this process of defining clear body lines; a unique movement language is created, through developing and defining the physical expression of the emotional response to a place. By observing movement, improvised in a space, and analysing particular lines that express a clear meaning, movement is defined and re-formed. By this means, a movement language for that particular place and time is created. This movement language can be taken out of this context and used choreographically, but having come from a place of meaning, used to express a similar emotion or used as a building block to respond to a new environment.